Bringing families back together for over two decades
27+ years of excellence • 500+ backyards reimagined
A True Outdoor Living Expert Near you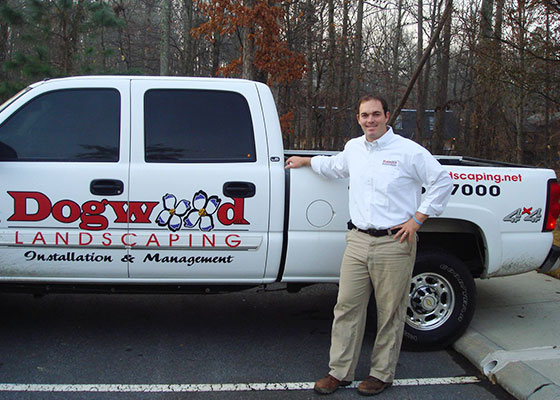 Experience Unmatched Dedication, From Our Family To Yours
Hi! I'm Jason Cory, the owner of Dogwood Landscaping. I am proud to say I wouldn't be where I am without my family. They are my joy and my motivation. I want to cherish them day by day, let them know they're loved, and spend quality time together, no matter what life may bring.
I started Dogwood Landscaping in 1997 with the goal of giving families their time back. I'm passionate about creating outdoor spaces that bring you closer to the important things in life: togetherness, appreciation for your loved ones, and health.
We're all a big family here, and we can't wait to meet yours.
Trust Your House With Certified, Licensed Landscape Professionals
Everything we do in our day to day process, on all our projects, is guided by a quality versus quantity principle. We choose to do fewer projects, with phenomenal attention to detail, so that you get the highest quality job possible.
Enjoy only the highest standards. We are a Certified Pool & Spa Operator®, member of The Association of Pool & Spa Professionals (now Pool And Hot Tub Alliance). PHTA is the only industry organization recognized by the American National Standards Institute to develop and promote national standards for pools, hot tubs, and spas.
Homeowners Like You Say...
Our customers continually become recurring customers. Their reviews speak for the quality of our work, our dependable team, and the long-term fulfillment our homeowners get from their completed projects.
We had initially reached out to Dogwood Landscaping to get a quote to install a DIY Fire Pit kit we had bought online.
After talking to Jason, we realized we could get more bang for our buck if we purchased the supplies through him – so we canceled the kit and let him design something that really fit our space.
This section of our yard was a forgotten space – it was always muddy and grass had a hard time growing.
Now it's a gorgeous focal point and somewhere we plan to spend many nights!
Dogwood will be our go-to for any future projects we have!
Jason and the team at Dogwood were incredible during the recent replacement of our timber wall to block wall. Jason was on-site every day during the project to ensure I was happy.  
My wall – I feel like I could land airplanes on or park cars on and it will be fine. In addition, their wall team built some extra steps for us – not in the original scope – but they had the materials and wanted to "finish" the look of the wall.
After the wall was built their landscaping team came back and "fluffed" my grass and replaced a couple of sections of sod to ensure my lawn was back to its normal place for the spring.
I will EASILY use Jason, Matt and the entire team again.
Dogwood did a great job of removing a wooden wall that was falling down and replacing it with a beautiful stone wall and stairs.
They left the area neat and clean when the work was complete. The workers were courteous, and Jason stayed in contact the whole time to let us know the plans as the work progressed.
Ready To Get Your Project Going?